As the public protests against the President and the incumbent government are gaining momentum, Minister Bandula Gunawardena says he will step down from his ministerial portfolio.
In a statement published on his official Facebook page, Gunawardena said he would withdraw from his Sri Lanka Podujana Peramuna (SLPP) membership as well.
Gunawardena stated that he would, however, continue to serve as an independent Member of Parliament.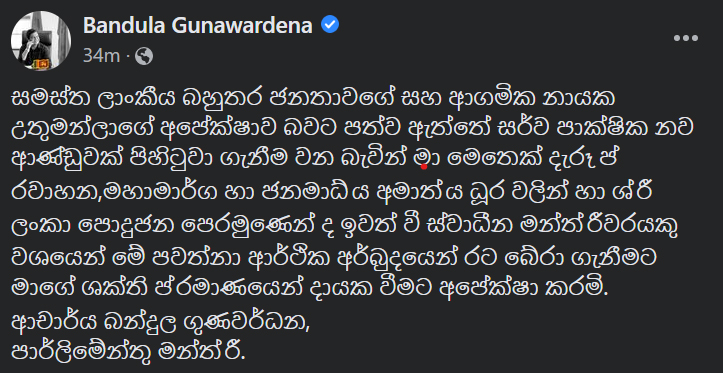 Manusha and Harin resign from ministerial portfolios
Ministers Harin Fernando and Manusha Nanayakkara have resigned from their portfolios with immediate effect.
Fernando and Nanayakkara were sworn in as the Minister of Tourism & Land and Minister of Labour & Foreign Employment, respectively, on May 29.
They had accepted the ministerial portfolios in the incumbent government without the support of Samagi Jana Balawegaya (SJB) and their party membership was later suspended pending disciplinary action.
Announcing their resignation today, Fernando and Nanayakkara said they accepted ministerial portfolios in the government under President Gotabaya Rajapaksa to do their utmost to find solutions to the ongoing economic crisis as a positive response was not received from many political party leaders for a collective effort.
Their announcement came after President Gotabaya Rajapaksa informed the Speaker of Parliament that he intends to resign on the 13th of July (Wednesday).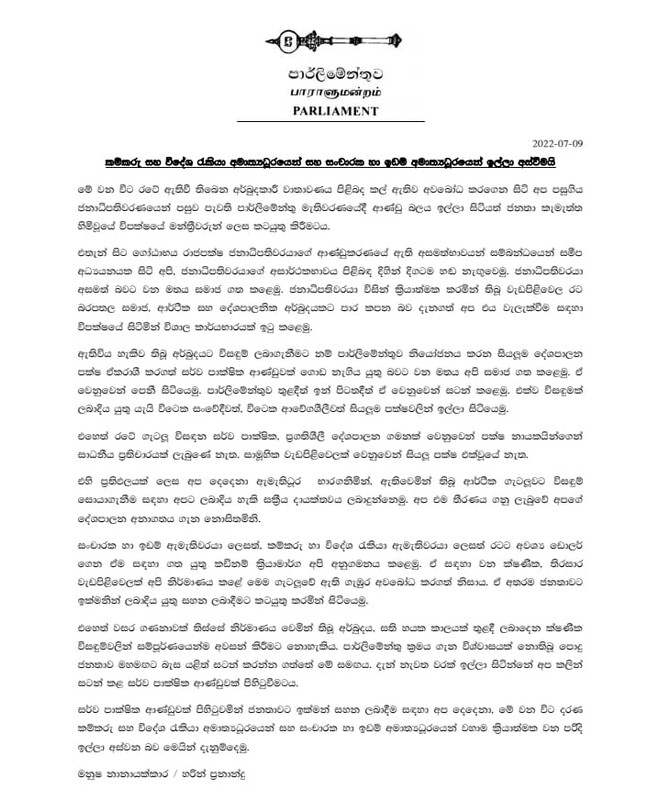 Amaraweera to vacate his ministerial portfolios
MP Mahinda Amaraweera has decided to resign as the Minister of Agriculture, Wildlife & Forestry.
His announcement came hours after President Gotabaya Rajapaksa informed the Speaker of Parliament yesterday that he intends to resign from the presidency on the 13th of July.
Meanwhile, MPs Manusha Nanayakkara, Harin Fernando and Bandula Gunawardena also announced that they are vacating their ministerial portfolios.
Amaraweera said he would bow out after officially accepting the fertilizer shipment today.
A shipment of 40,000 metric tons of fertilizer, procured under the Indian credit line, arrived in the country yesterday. Distribution of this fertilizer consignment is expected to begin later today.